Chassis SFACXXBJ2CFE00012

Index

LHD or RHD

Date of First Registration

Version

RH71020
C200LWC

LHD

17.04.1986

Rally-EVO
Work car used for practice and test, destroyed by fire during the pre rally test Rallye of Greece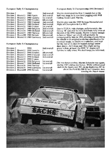 This was the prototype Evolution built on a new chassis
Sold to and raced by Mr Rallycross Martin Schanche in 1986,87,88
Destined to be Evo chassis 201


It had the Norwegian tax/customs plate displayed
Click on images below to bring up larger sizes...
Quoted from original posting, " The most important RS200 ever offered for sale! - *Ex-works Boreham car used by Blomquist, Schanche, Droogmans and Zannini - *The first Evolution Prototype, features many unique options. - *Complete X-Trac drive train and 700+BHP engine. -
*Comes with original log book and substantial original documentation. - £98,000 including world wide freight, part exchange possible. - For further information and full presentation please contact +47 Norway
Auction dated 11/7/2003 where #012 was sold for £72,000.
19/1/2004 -Sold to a collector in Switzerland.
In the book on RS 200's published by unique motor books.
Video from DUKE about the 200 and this was one of two cars pictured on the cover
If you find any further info on this vehicle please email me on info@rs200.com
Thanks,