Here are some classic images

Steve Groves sent me some great images of the build process...

Carl Westberg sent me this information from a Swedish Magazine also see chassis 145

A report from the RS Owners Clubs "RallyeNews" Nov/Dec 2000 featuring the RS200 gathering...

Ford of Germany's car, pictured here at Colone Technical Centre open day August 2000. Unfortunately no VIN known. No registration either, just had a plate with RS 200.

A quick history of 200's in PDF format


RS200 History

Another PDF


All RS200's

Some nice Ford Press photos...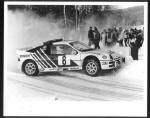 Some images of cars for sale outside Boreham, the red one is #138

The Boreham "works" Reliant Robin !

A couple of 600 DPI scans of our logo....
.jpg format >>

.png format >>


600 DPI scans of the shape in case you are thinking of putting stickers on one ...



Some FORD archive images.....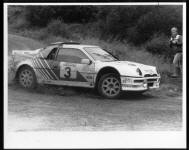 Peter Arnold send me a couple of images of him testing 200's way back in the day.....


Steve Booker send the scan of the RS200 mentioned in Classic Cars October 1988 edition - We still do not know what car it was that sold :(
Peter went on to say, "I have found a number of other shots including what I think are me appraising one of the two original Tony Southgate cars. It has black mirrors, no jacking points in the sills, no door locks, no registration plates, different fueller for the rearward (as opposed to forward on production) opening back deck that Tickford changed in the re-design for production. The Ford logo is taped over so this is very early. It is not Millbrook, it might be Boreham as there is a hangar structure in the rear of the photo or possibly at MIRA. Security was an issue initially."
If you have any further info then please email me on info@rs200.com
Thanks,