Chassis SFACXXBJ2C??00062
| | | | |
| --- | --- | --- | --- |
| Index | LHD or RHD | Date of First Registration | Version |
| C200KHJ | LHD | Unknown | Rally |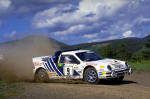 Justin Fifield sent this images ages ago.


Page 218 and page 225, this car was pictured in Jeremey Waltons book "RS - The Faster Fords" ISBN 0-947981-21-7
http://rallye.stars.free.fr/autos/rs200/album/album_rs.htm
Driven by Mark Lovell and winning the British Open Rally Championship 1986 before being burnt out during 1986 RAC rally, Ford sold to Graham Hathaway for racing use only but without chassis number.
1997 Converted for hillclimb German Championship
Look at Quaife catalogue 2003 on the page for RS200, the car has got a separate Hathaway chassis plate stating "Avon GHR 62" and the engine is running Bosch ECU.

1998 Converted to Evo specs with 2100 cc
June 2004 - Another enthusiast, William Arnold, has sent an image for the database.
C200KHJ rolling in Twigleys Forest by the late (and great) Mark Lovell...
| | |
| --- | --- |
| C200KHJ.MPG (17Mb) | This is a 969 kB.mpg file so will take some time to download, please DO NOT run it from my server, just right click and SAVE AS to your own hard drive and save it to there. - Thanks. |
This is the full version with sound...
| | |
| --- | --- |
| C200KHJ_Full.WMV (17Mb) | This is a 18 MB .wmv file so will take some time to download, please DO NOT run it from my server, just right click and SAVE AS to your own hard drive and save it to there. - Thanks. |
2009 - Car in Austria without engine



2009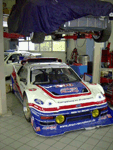 If you find any further info on this vehicle please email me on info@rs200.com
Thanks,