Chassis SFACXXBJ2CFE00010
Index

LHD or RHD

Date of First Registration

Version

D439PJN
77055
RS200
86200

LHD

3.9.86

Road
3.9.1986 in the UK was registered as D439PJN
Page 221 in two photos in Jeremey Waltons book "RS - The Faster Fords" ISBN 0-947981-21-7
March 2004 - I was sent an email from Chris with a link www.xrrs-club.nl at which a picture of #010 lives.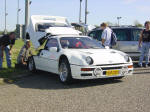 He says "It is from jenny v Hilten in Luxemburg. It is a formen pacecar from ford it self. Sold bij bob howe in boreham in September Ď87 It has been raced and fully restored. Every year this car is on display at the European ford event. It is LHD has 450 bhp ( it had more 530bhp) Donít now reg number or mileage."

D439PJN is seen on page 219 and page 237,
I also read and saw a picture of this car in the book on RS 200's published by unique motor books.
I found a picture of the car here http://www.thesunsite.com/rs200sales.html, not for sale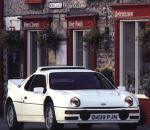 June 2004 - Jenny and Bram van Hilten, Jenny used to race this car and won different national and international championships. It has been fully restored. The engine produces 530 BHP when in race trim but drops to 450 BHP when used with a more sensible road exhaust.
A very unusual thing about this car is that it has the letters FE in the chassis rather than the normal GL, A person who claimed to have worked at Boreham thought #010 had a re-enforced works-chassis ? -registered in Luxembourg on 30.12.1987 as 86200.
June 2004 - Another enthusiast, William Arnold, sent some images for the database...
Drive Arcticle
Landgraf
Autocar Cover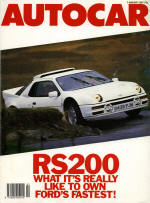 Some more...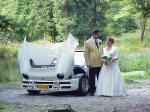 October 2006 - December 1990's Fast Ford, middle page, front row, last car on the right you can see chassis #010 .
If you find any further info on this vehicle please email me on info@rs200.com
Thanks,