Chassis SFACXXBJ2C??00004
| | | | |
| --- | --- | --- | --- |
| Index | LHD or RHD | Date of First Registration | Version |
| B690CEV | LHD | Unknown | Road |
1990 Ford New Letter, dismantled by Ford

In Jeremey Waltons book "RS - The Faster Fords" ISBN 0-947981-21-7 he refers to it as P4 -
In the book on RS 200's published by unique motor books.
This car is seen on page 210,
In issue number 1 of Fast Ford where they feature this car with photos on page 33.
I found this link whilst surfing ... http://rallye.stars.free.fr/autos/rs200/album/album_rs.htm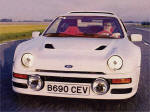 B690CEV is pictured on the back side of the original RS200 owners club issue.
May be destroyed by FORD.Info Not Verified or Confirmed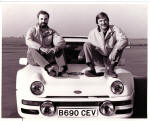 November 2005 - In the picture are Kalle Grundell (right) and his co-driver Benny Melander (left) -
If you find any further info on this vehicle please email me on info@rs200.com
Thanks,