200 Plus......
FORD ordered around 240 chassis and tubs to supply the intended group B range so there are genuine parts around, there were also several crashed cars and bent chassis
Those owners who have genuinely built up cars from parts are aware that even if all the parts come from a RS200, it s not a original Ford RS200 built by Ford.
What will be the correct description ? Reconstruction ? After Market ? Parts Cars ?
I believe that parts cars are the best description as they are built with original parts !
Summer 2004 Chris Wise who has bought a 200 with some history, as a parts car
---
Chassis
| | | | | | |
| --- | --- | --- | --- | --- | --- |
| Index | LHD or RHD | Date of First Registration | Last known Odometer reading | Last known sales price | Other Comments |
| | | | | | |
| --- | --- | --- | --- | --- | --- |
| C471RJR | RHD | Unknown | Unknown | Unknown | Parts Car |
On 22nd January 2004 - Chris bought a "running" car from a Bernard Carney specialist car dealer
Bernard had taken the car in part in part exchange from a guy called Terry Townsend who traded it against a Rolls / Bentley that Bernard had for sale stating that the car was ex Ford / Hathaway C200KHJ with a lost logbook.
Bernard did the deal and tried to obtain logbook through normal DVLA channels to then find out that there was another C200KHJ at Northallerton.
The car had no chassis plate or stamped VIN (but that would be normal for a works car) and paperwork showed that another C200KHJ had been bought direct from FORD following being damaged and appeared to be the "real one"
The DVLA were involved as to agreeing a future identity and a price was agreed and the deal done.
Bernard had tried very hard to obtain proof from Graham Hathaway before Chris bought the car as to its history, and was given this outlining the history of the car from Hathaway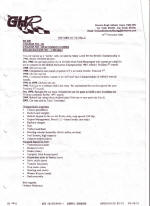 Here is the car before Chris bought it ...
We still have the question as to what was the car initially ? - The chassis had cut outs on the bulk head and in the rear frame which were something done to cars that were being turned into EVOS but the engine was a 1.8 not a 2.1 and was traced as being an original engine number, one that was a spare.
There were upgrades to the front chassis rails which is to stop them bending during rough surface and there was damage to the underside of the car is typical for rally / rallycross abuse. The car was fitted with a front sumpguard / gearbox guard full length and during rubbing down the car does have a different colour one of which is Yellow, which Chris believes, was a Hathaway's, rallycross colour which appears in all sorts of places included chassis and main body.


Chris had a meeting with Arch motors (who made the chassis) and they suggested this was a very early shell, maybe in the first batch of 7 chassis supplied by them and from other items they noticed, certainly in the first 20 supplied, perhaps one used by FORD for prototyping ...info not verified or certified
The bad news, the floor had become delaminated and, upon further measurements, it turned out the chassis also had some heavy right impact and was twisted, the good news, if there can be any is Arch were able to supply Chris another chassis !
We found some old images of 200 chassis at Graham Hathaways in the '80's so it could have been one of them....
Chris really did take his new purchase apart ! - I can't work out if below is the new chassis or the old one ?
January 2005 - Chris has been extensively rebuilding this car
DVLA have issued him a new index C471RJR and the car will be ready in 2005,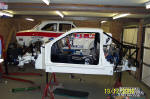 March 2005 - The engine in the car has a rare block number of H85 not H82 as for RS1700T. - According to RS news all works cars has these blocks plus another 10 extra blocks were made, see the below....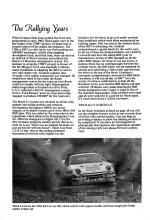 If you find any further info on this vehicle please email me on info@rs200.com
Thanks,