Chassis SFACXXBJ2C??00188
| | | | |
| --- | --- | --- | --- |
| Index | LHD or RHD | Date of First Registration | Version |
| F99GKJ | RHD | Unknown | Road |
Sold to Sebastian Conran.
Jonathon who had seen this car on the track at the RS Owners Club Day.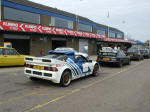 July 2004 -Owner Will today at the Essex RSOC.
A basic HPI check in August 2004 showed...
| | |
| --- | --- |
| Manufacturer | Ford |
| Model | RS 200 4WD |
| Body type | 2 door saloon |
| Colour | White |
| Fuel type | Petrol |
| Date manufactured | 31 December 1989 |
| Number of previous owners | 1 |
| Last owner change | 01 May 1999 |
Peter Greening sent me a great email about #188, "Hi, re No.188 F99GJK - I worked for Sebastian Conran when he bought his RS200 (not sure if it was this one, I only remember it being F reg & costing 49k direct from Borehamwood) & I think it was just standard spec then. It was white with a red interior I seem to remember + the front reg no. was stuck on the bonnet (I remember helping do that). He stored it in the office workshop alongside his Traction Avant & Bentley S1 continental Fastback. We (the other 3 designers in the office) tried to persuade him that it was a good deal & would go up in value like the Ferrari he had recently sold for a big profit.....we were wrong. Best story was he took it on his Honeymoon (he used it just for general driving around in!) to the Cotswolds soon after he got it, however he decided to turn the turbo boost up- is there a knob behind the passengers seat?- however the limit hadn't been set by Ford so he blew the engine. He told us that it made the technicians week at the Ford dealership in Oxford as the whole engine had to be replaced. I seem to remember it had done approx 1500 miles at the time & was replaced under warranty- just like on a Fiesta. - He kept it for quite a long time & in good condition- no rallying / racing as I remember it. - If you want to contact Sebastian (he's a nice guy aged mid 40's now) his email is xxxxxx@xxxx.com he's still a petrolhead - regards, Peter Greening"

Then Sebastian got in touch, "Yes I did have a pretty ferocious 480hp RS200 and my Bentley lost itís number plate as we went off on honeymoon. -
Give us a ring if you want to discuss - Sebastian " -
October 2005 - Will, Steve went to SPA to play on the track, check out "RS200's in action" for the images !
If you find any further info on this vehicle please email me on info@rs200.com
Thanks,