Chassis SFACXXBJ2CGL00158
Index

LHD or RHD

Date of First Registration

Version

2 00
D632XNO (Previous)

RHD

Unknown

Road
FORD demonstrator about October 1988.
Repainted red and Sold to Geoffrey Bloom, Herts UK
It visited various places including Donnington Park for use by Jackie Stewart.
http://www.tennodai.com/satoh/temp/cosat.zip
2009 I have spoken to the owner on kosatoh@lostlands.com or satoh@cosat.com
1996 #158 come to Japan (1st Japanese owner)
1998 sold by 1st Japaneseowner
2000 I bought #158
2005 #158 do Demonstration Run on RALLY JAPAN (WRC)
August 2005 - You really must look at some of his rebuild images,
September 2005 - I have a latest image...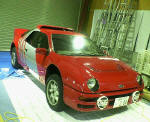 If you find any further info on this vehicle please email me on info@rs200.com
Thanks,