Chassis SFACXXBJ2C??00145 - EVO

| | | | |
| --- | --- | --- | --- |
| Index | LHD or RHD | Date of First Registration | Version |
| STS550 | LHD | Unknown | EVO |
Sold about March 1987 after being prepared by Gordon Spooner to Mike Greasley from Stagg Enterprises, London through the FORD dealer John Taylor -
Destined to be chassis 208
Carl Westberg sent me this information, "The car was ordered new from Hans Möller (the owner) and he was racing it in Nordic hill-climb competitions between 1986 and 1996 with great success (then it got banned). The car has some modifications like a formula 1 turbocharger and other performance up-grades. Before the F1 turbo was fitted the car produced 630 hp and 830 nm´s tourqe. Today it has well over 700 BHP. They have clocked the car 0-62 mph (0-100 km/h) in 2.0 seconds and 0-124 mph (0-200 km/h) in under 7. In a hill-climb meeting up against Stig Blomqvist´s RS200 at one point Stig had a speed of 113 km/h at the same spot Hans RS200 had a speed of 132 km/h. Today the car is road legal and has the index STS550"
He sent me this image...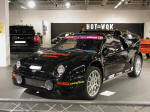 Swedish magazine article..
Magazine write up on #145...
August 2005 - Hans Moller in Sweden, and she is for sale here for 235,000 Euros.
If you find any further info on this vehicle please email me on info@rs200.com
Thanks,