Chassis SFACXXBJ2C??00096 - EVO - "S"

| | | | |
| --- | --- | --- | --- |
| Index | LHD or RHD | Date of First Registration | Version |
| J200RSE | RHD | 1.10.1991 | EVO |
Sold to James McAlpine
1987 I bought chassis 142 (RHD 250BHP) new on 29th Sept 1987 for £53,812.47. This price included the "Stratton Pack" which consisted of a partial leather interior, upgraded carpets and better paint. On 26th July 1991 I bought this car, Chassis No. 96 (a LHD EVO) from Ford at Boreham. It was a car that they had sent to Canada, but had never sold. In August 1992 Gordon Spooner Engineering converted 142 to LHD and 96 to RHD along with the entire interiors. So....142 (E702UKJ) ended up with a standard road interior and LHD, whilst i now had 96 (J200RSE) as a RHD EVO road car with an upgraded interior (including electric windows and an alarm fitted for the Canadian market!). I still have J200RSE. It has not been used much due to pressures of work etc, and has sat idle for 9 months or so - I am having it serviced next week. It would be for sale at the right price. I hope that that is of interest and fills in the gaps a bit! "
Destined to be chassis 217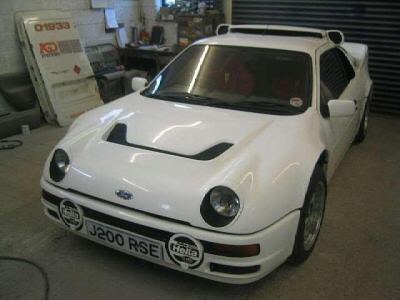 March 2007 - Ebay has this car for sale, I have saved the link for you here.
June 2007 - Sold
If you find any further info on this vehicle please email me on info@rs200.com
Thanks,