Chassis SFACXXBJ2CGL00084 - EVO

| | | | |
| --- | --- | --- | --- |
| Index | LHD or RHD | Date of First Registration | Version |
| Unknown | LHD | Unknown | EVO |
1990 Sold to Manfredo Lippmann from Costa Rica
The link I found was http://www.autocollections.com/moreinfo.cfm?key=1152
Click on images below to bring up larger sizes...
Quoted from their website, " 1986 FORD RS200 EVOLUTION ID# SFACXXBJ2CGL00084 FORD RS200 EVOLUTION. #084 CAR. 2.1 LITER COSWORTH SINGLE TURBO. 600+ HP. ONE OF 24 EVER MADE. THIS CAR IS FACTORY ORIGINAL AND HAS BEEN DRIVEN VERY LITTLE SINCE NEW. THE RS200 WAS BANNED FROM RALLY COMPETITION IN EUROPE IN THE LATE EIGHTIES BECAUSE THEY WERE TOO FAST AND CONSEQUENTLY BELIEVED TO BE TOO DANGEROUS. RECENTLY THE FIA HAS LIFTED THE BAN ON THESE CARS TO COMPETE IN THE "VINTAGE" RALLIES BEFORE ALL OF THE EVENTS ON THIS SEASON'S EUROPEAN RALLY SCHEDULE BECAUSE OF THEIR POPULARITY THROUGHOUT THE WORLD. EUROPEANS ARE FRANTICLY TRYING TO FIND THESE CARS AND THIS IS AN UNMOLESTED EXAMPLE OF THE REAL THING. TWO POINT ONE SECONDS, THAT'S 2.1 SECONDS, A LITTLE OVER TWO SECONDS. LESS THAN THREE SECONDS. IN THE TIME IT'S TAKEN YOU TO READ THIS, A FORD RS200 EVO CAN REACH 60MPH! FOUR WHEEL DRIVE AND 650BHP FROM A MERE 2.1 LITRE ENGINE MADE FORD'S RALLY CAR AN INSTANT LEGEND WHICH FEW CARS HAVE COME CLOSE TO CATCHING. "
Destined to be chassis 214
July 2004 - This is up for auction in the US on 11th - 15th August 2004, see info.
November 2004 -The car is still for sale and buyers are to contact cclarke@blackhawkcollection.com
I have been sent an image of #084 from someone whose father saw the car while on vacation in Las Vegas.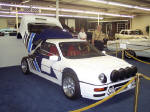 May 2005 - And another great image from Angus returning from his holidays ...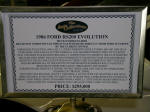 March 2007 - This car is still available http://www.autocollections.com/index.cfm?action=inventory&tab=inventory
If you have any more info then please contact me info@rs200.com
Thanks,