Chassis SFACXXBJ2CGL00081 - EVO
| | | | |
| --- | --- | --- | --- |
| Index | LHD or RHD | Date of First Registration | Version |
| C836SRB | LHD | Unknown | EVO |
Built for FORD Spain to use in the Spanish Gravel Rally Championship ( see 1990January Ford New letter )
The link I found was http://www.racer-net.com/vintg057.htm
I have saved the image in case the link dies...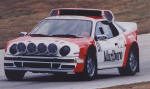 It appears to be for sale, quote, "Ford: 1986 Cosworth RS200 Evolution Group B Rally Car. #081 Ford of Spain team car. Still in Marlboro livery. 600+ hp. Fully restored, perfect condition with all rally equipment, as raced. Complete spares package including spare tub, (EVO) body work, new 2.1 liter Hart Cosworth engine. Two gearboxes, one transfer case, etc. Enough to practically build another car. Entertaining all reasonable offers. Offers e-Mail: Agsvrc@aol.com "


Destined to be chassis 209
Contact with John beck and #081 is currently (Aug 04) living in the UK having been brought back by David Bramwell.
July 2005 - Jon has sent me some images..
August 2005 - Jon is of a mind , that he might sell #081 ! - She is the Ford of Spain 1989 Gravel Championship car (Jesus Puras) and runs on an x-works EVO engine with big valved engine (550 - 600 BHP). She has big diffs front and rear (with oil cooler for rear), FF Dog Box, Full gravel suspension arms, magnesium bilsteins, oil cooler, power steering, skid shields, big 315mm Brakes all round, fly-off hydraulic handbrake. She is set up for tarmac at the moment due to the "Slowly sideways" events.
October 2005 - The new owner has now registered #081 in the UK and she has been given C836SRB.
If you find any further info on this vehicle please email me on info@rs200.com
Thanks,