Chassis SFACXXBJ2C??00072
Index

LHD or RHD

Date of First Registration

Last known Odometer reading

Last known sales price

Other Comments

C440BHV
JV-99-80

LHD

Unknown

Unknown

Unknown

Rally
Sold to Diabolique Motorsport, Portugal around Feb 1986.
1986 - Portugal whilst being driven by Joaquim Santos at Curva das Aguas.
Image was taken at the crash on Portugal Rally of 1986.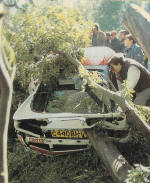 2004 - 072 seen at Oporto Classic Show in October bearing the index JV-99-80.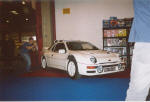 "I can tell you that the RS200 Chassis 072 Diabolique is alive and well here in Portugal. The car is usually seen at the biggest motorshow & classic car shows in Oporto. Unfortunately it has never been used in demonstration runs and I'm sure it hasn't seen almost any use since 1986. The car is pristine and in excellent condition. Last year, the extinct Diabolique Motorsport team was reunited for the first time in years, and there was a demonstration run with a couple of genuine Escorts Gr.4 '' Diabolique '' driven by Joaquim Santos. Although the team has ceased activity in 1992, the team owner still has all the cars ! I'm sending a photo of the RS200 road car that is part of the collection of the ''Diabolique Motorsport'' team owner. I don't have any more information about this car except that it has a 1986 license plate."

If you find any further info on this vehicle please email me on info@rs200.com
2009, we receive photos from the crash for the RS200 book
Thanks,
Benoit