Chassis SFACXXBJ2C??00061
| | | | |
| --- | --- | --- | --- |
| Index | LHD or RHD | Date of First Registration | Version |
| C200JJN | LHD | Unknown | Rally |




May be sold originally to a B Wiklund from Sweden around December 1986. Info not Verified or Confirmed
I found this picture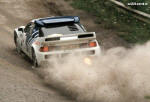 Sven Hilbrandt sent some more images...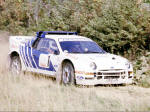 . "1986 Bianchi Rally C200JJN - note it actually has the bonnet of C200MNO on, or its spare (Its in Belga colours !) "
Ford Holland hired the car from Ford Motorsport.
The top image is of #061 at the rallycross circuit in Valkenswaard in the Netherlands during the 1986 ELE rally in Eindhoven.
The next image shows Stig Andervang driving They became Dutch Rally Champions of 1986

The last two pictures are from Andervang - Liewma in Belgium rally's. -
Paul Melief has sent some more images that he took in 1986 during the Dutch Int. Rally with the car being driven by Stig Andervang / Andre Schoonerwoolf ...
June 2007 - Theo van de Kratts has given me some more information....
"The information you have may not be totally, If you look very well at The yellow sticker in front of the front window then you shall see that this is during the same rally as in my pictures that I did sent you earlier. So I am very sure when I say that Paul Meliefs last 2 pictures are taken during the Grenslandrally 1986 in Belgium. The first one is taken during the Hellendoornrally 1986 in the Netherlands. I Also know for sure that the co-driver was Anja Lieuwma. In my rallyvideo's of the 1986 International Dutch rally championship she gives some interviews. "
2009 - Bjorn Viko in Norway claim to own it but we believe that the car was destroy and they try to build a replica
BEWARE Vidar Haugen & Bjorn Viko, the norvegians crook on RS200 are under police investigations
If you find any further info on this vehicle please email me on info@rs200.com
Thanks,